6000va in a 3U frame is a great advancement
Legendary Design with bundle includes rail kit and AP9630 card.
Featuring the best UPS technology… Online/Double Conversion technology
Condition: Refurbished
Capacity: 6000 va / 4200 watts.
Input Voltage: 208, 240 volts.
Output Voltage: 208/240 volts.
Special Features: w/Netcard & RailKit
Runtime: 16 minutes at half load.
Dimensions: 17'' x 5.1'' x 26''
Weight: 120 lbs.
GTIN: 731304259398
MSRP: $4100.00
Plug and Outputs: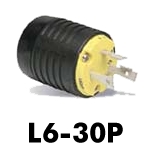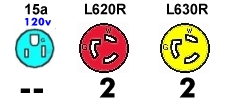 COVERAGES: Our "Lifetime Warranty" covers the core functions (inverter, rectifier, communication, etc.) of the UPS against one failure under normal operating conditions for 20 years after manufactured date. In the event of a failure, GreenLightUPS will repair or replace the UPS unit. Consumables, Cosmetics, Filters, Accessories, and Displays are not included as they may degrade over time.
Learn more at
here